Skip to Content
Helping Ashville, NC Stay Fit with Swim Spas
Your health and fitness may be an important aspect of your life that you treasure and swimming is one of the best workouts you can perform to achieve and maintain optimal condition. At All Pro Billiards & Spas, we help our customers in Asheville, NC, and the surrounding area swim for miles without ever having to leave their backyard. Our selection of Cal Spas swim spas provides an endless lap of swimming with a continuous current for you to swim against. There's no limit to your workout, and it all fits in a model a lot smaller and less expensive than installing a pool on your property. Besides the endless current, our selection also includes models with hydrotherapy to soothe your sore muscles and relax under the Carolina sky. These innovative and cost-effective swim spas provide fitness, fun, and relaxation for everyone in your family. You can even safely teach your kids how to swim to train for a fitness competition without ever leaving home. Enjoy your leisure time in the privacy of your own backyard with a rigorous exercise routine or a lazy evening of soaking under the stars.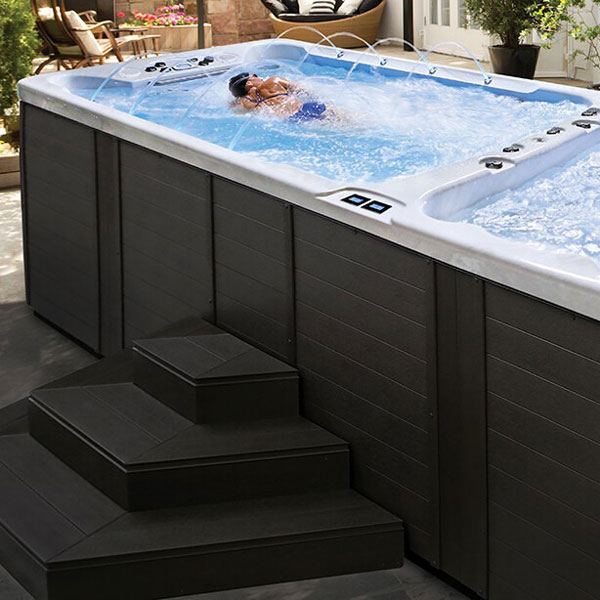 Enjoy Your Workout & Hydrotherapy with Cal Spas
All Pro Billiards & Spas' collection of swim spas available at our convenient location includes various models from Cal Spas. This brand of swim spas provides durability and reliability in every unit they produce. Cal Spas is about more than fun and relaxation. When you invest in one of their models, you invest in a lifestyle centered around your health and wellness through physical fitness and hydrotherapy. They expertly engineer their swim spas to provide years of enjoyment with unrivaled structural strength and long-lasting durability. Your entire family can enjoy the therapeutic benefits of hydrotherapy and the excitement of an aquatic home gym that accommodates any swimming style. You can do the backstroke, butterfly, or swim freestyle without having to stop and turn around, or you can walk, jog, and strength train against the current. With Cal Spas, you get the highest-quality underwater fitness available on the market today.
Contact All Pro Billiards & Spas to Get Started
With the wide selection of swim spas we have available for Asheville residents, you don't need to put off enhancing your at-home workout routine and hydrotherapy. All Pro Billiards & Spas can help you find a model from Cal Spas that caters to your family's water exercise and relaxation needs and fits your budget. Visit our store location today to see the various options we have ready for your purchase, or you can contact us with any questions.
Visit Us for Billiards, Spas & More